Earthing Material
In collaboration with Balaji Metacast Industries (an approved company in almost all Government Departments and important Private Sector Organizations) to provide Advanced Earthing Solutions with brand name "BMI".
Valtree is also into manufacturing / supplies of Electrical Materials like
1. GI Earthing Pipe
2. Chemical Earthing
3. Lightening Arrestor
4. Spike Rod & Copper Plates
Cast Iron Earthing Pipe
Cast Iron Earthing Pipes are also known as Earthing Electrode Pipes, these are suitable for all types of installation right from domestic to power stations. These are widely used into electrical installation, transmission lines in transformer earthing and other such applications.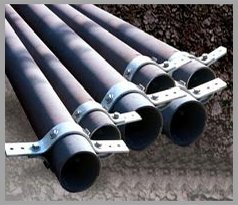 The size of the pipe depends upon the current to be carried and type of soil usually the pipe used for this purpose is of 38mm and 2.5m in length the depth at which the pipe must be buried depends upon the moisture of the ground. Based on latest technology, we manufacture all types of electrical earthing pipes, earthing pipe electrode, earthing copper pipes and more. Our range of earthing pipes assure safe and higher earthing provision because we use optimum quality raw material in the manufacturing of these pipes and our state of art manufacturing unit is well equipped with modern tools and machinery, that enables us in the smooth production of our exclusive gamut in adherence to the demands and specification of our esteemed clients.
GI Earthing Pipe & Its Features:
Low electrical resistance and high corrosion resistance Connectivity up to chamber or earth terminals Reliable, durable and easy to handle Highly secure and well tested by using latest technology Optimum quality performance and available in different sizes
Spike Rod & Copper Plate
Copper is excellent conductor of electricity hence in high rise buildings etc. Spike Rods are used as lighting arrestors. Copper plates are use in earthing pits because of its high conductive value
Chemical Earthing
Chemical Earthing is also known as Maintenance Free Earthing. A well-designed Earthing system is essential for any electrical installation to avoid dangers associated with fault currents. Good Earthing protects both equipment and people against dangerous step & touch voltage. A low resistance Earth Termination System aims:
To provide security for people by limiting the step & touch voltage.
To protect installations and equipment by providing a low impedance path for fault currents.
To improve the quality of the signal by minimizing the electromagnetic noise.
To provide an equipotential reference voltage for the system.
Expected Life more than 20 years.